Former professional defensive tackle for the National Football League, Booger McFarland.
Booger is difficult to forget because of his original name. The former NFL player used to daydream about leaving Winnsboro when he was a little child.
He never considered appearing on television. Booger became a star player at his university, and the National Football League later chose him, so as they say, "expect the unexpected."
It used to be difficult for African-Americans to be given the chance to show off their talent.
Despite this, McFarland made history by likely becoming the first African-American to work full-time as a football analyst in a No. 1 NFL Booth.
Despite the fact that there weren't many African Americans on the job, they weren't given much attention.
Let's go through the brief facts before reading more about the illustrious former NFL defensive tackle and TV analyst for NFL.
Early Life and Family of Booger McFarland
The former NFL player was born in Winnsboro, Louisiana, on December 18, 1977. His mother, Nancey, called him Booger because of his mischievous conduct because he was so young and had many other nicknames at the time.
He truly enjoyed the moniker that had stuck with him. However, Anthony Darelle McFarland is his real name.
Booger also revealed in one of the interviews that he had to take care of his younger brother and sister after his mother passed away in 2005. They had mental disabilities, he added.
The name of Darelle's father has not yet been made public in the media, in addition to the aforementioned statement.
Booger McFarland | College Career and Education
The former defensive tackle earned a business management degree from Louisiana State University in 1999. At the same university, he began his professional football career.
He played defensive tackle for the LSU Tigers football team. He and his squad won numerous accolades and titles while he was a student at LSU.
Booger assisted in the 1995 Independence Bowl, 1996 Peach Bowl, and 1997 Independence Bowl victories for the Tigers.
McFarland was also named the SEC Defensive MVP for the 1996 Peach Bowl. However, they did not always come out on top. The Tiger had a spectacular fall in 1998.
Nevertheless, McFarland was named co-captain during his final year of college.
Before graduating, he had previously participated in the Senior Bowl in 1999.
Booger McFarland | Work Experience
After competing in the Senior Bowl, Darelle was selected by the Tampa Bay Buccaneers in the first round of the 1999 NFL draft.
Anthony McFarland, a defensive tackle for the Tampa Bay Buccaneers, celebrates after their NFL victory over the Dallas Cowboys.
Furthermore, on October 17, 2006, Booger was once more selected by the Indianapolis Colts in the 2007 NFL Draft after spending eight years with the Buccaneers.
In terms of run defense, the Colts' record in the league was subpar. The Colts' defense then improved after McFarland joined the squad.
On November 10 against the Buffalo Bill, he recorded his first sack with the Colts.
Ultimately, the Indianapolis Colts defeated the Chicago Bears in the Super Bowl, earning Booger his second championship medal.
Despite not being the most well-known football player, McFarland amassed 170 tackles and 22.5 sacks in 109 games throughout the course of his NFL career.
In total, he made 305 tackles throughout 80 games, and in 2002, he captured the Super Bowl XXXVII.
Sadly, the excellent defensive player's career as a professional defensive tackle was cut short by a devastating knee injury he sustained during his offseason training camp.
Booger McFarland | Career in Broadcasting
The news that Booger could no longer play football was heartbreaking. But he wasn't prepared to abandon football entirely.
Following his retirement, the former defensive champion began his new career as Marc Ryan's co-host on a radio show on the CBS Radio Network.
After the CBS show was canceled, he later signed on to work as a football analyst for the SEC Network in 2014.
Additionally, he occasionally served as a guest analyst on "Mike and Mike," the morning show on ESPN.
Mobile Booger
Additionally, ESPN and McFarland have experimented with broadcasting from his mobile commentary booth, the Booger Mobile, at field level.
Jason Witten, Joe Tessitore, and of course Booger provided the commentary.
Age, height, boxing, wife, son, ESPN, net worth, and Instagram for Joe Tessitore
However, as complaints mounted, the Booger Mobile was only in operation for one season. The front row of the field audience was unable to see the game.
However, Booger's transmission continued after Booger Mobile was discontinued. Later, for just a year, he worked as a consultant and sideline analyst for ESPN's "Monday Night Football."
Booger and Joe Tessitore have since been replaced by someone else on ESPN's "Monday Night Football."
Because of the way he anchored the game, Booger was adored by many of his listeners. He made a comically apparent statement.
He occasionally erred on the air, mistaking one team for the other.
He was despised and made fun of by other individuals for the same reason. On the internet, there are countless memes regarding Booger's broadcasts.
I'm a country boy, Booger said in one of the interviews. My mouth is large. I recall when I was younger eating hog cracklings and going barefoot. That might not suit you. Fine, that. However, when you observe football, you can conclude, "You know what, he obviously understands the game." In the end, I don't care what else they say as long as they appreciate that.
Tessitore is reportedly returning to college football, and Booger will play a key position in the NFL studio.
Booger McFarland: Wife, and Children
The ex-football player wed his wife, Tammie McFarland, in 2008. Although the viewer doesn't get to see much of the couple, we can see that their relationship is happy and healthy.
Tammie is a year older than her spouse because she was born in 1975. The ex-defensive tackle and his wife have two adorable kids: a daughter named Alexis and a son named Jacob.
There haven't been any speculations about Booger or Tammie's previous romances or extramarital activities.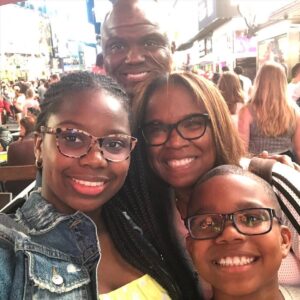 It is likely that the couple first connected through football. As it happens, Anthony Skinner, a colleague of Booger's at LSU, is married to Tammie's cousin.
There is little information regarding how the family spends time together because Booger loves to keep his personal life secret.
However, we are confident that they enjoy each other's company just like any happy family would.
Booger McFarland's earnings and wealth
It is safe to assume that Booger made a big salary as a National Football League player with a good track record.
Booger's earnings as a professional football player are unknown. Additionally, he had a $34 million deal. Thus, the majority of his savings came from his time in the NFL.
Similarly, he made about $2 million a year during his stint as a TV expert. His present income source is unknown, though.
RIGHT NOW, ANTHONY'S NET WORTH IS ESTIMATED AT $9 MILLION.
We may infer that he leads a remarkably opulent life based on how he spends his downtime, which is frequently spent on a golf course.
Desmond Howard, a former NFL player who is now a television analyst, might also be of interest to you. Bio: Age, Career, Wife, ESPN, Net Worth, and Wiki on Instagram.
Booger McFarland: Physical Description
Typically, a defensive lineman should be physically larger than the average player. Anthony Darelle has also always had a large physique.
He stands 6 feet and a half inches tall and has arms that measure 33.38 inches in length. His fingers are crooked from playing defensive tackle for 8 years.
When he was playing, Booger weighed 336 pounds. However, he now weighs 279 pounds after losing 60 pounds through the daily exercise (127 KGs).
Some Famous Quotes by Booger McFarland
Every squad has both its strengths and its weaknesses.

Quarterbacks will score; it's a given. The team that runs the ball the best, though, will win, in my opinion.

Nothing gives a team more peace of mind than knowing they have someone they can count on to step up and make the play when it matters the most.
Booger McFarland's presence on social media
Anthony appears to be active on Instagram(@secbooger) and Twitter(@ESPNBooger), despite the fact that he rarely posts about his personal life there.
He has 11K followers on Instagram and 145.5K followers on Twitter.
Though not very frequently, you will occasionally be able to observe his activities.
Questions and Answers
Booger McFarland's Fingers: What happened to them?
His fingers are wavy for the most part. His hands suffered because he was subjected to so many defensive tackles on the pitch.
Like the majority of NFL players, Booger was left with a physical memory of his time spent playing for the league.
Are Anthony Darelle McFarland and Anthony McFarland Jr. related?
McFarland Junior and Darelle McFarland are not connected, despite the fact that there are many families with connections to the NFL, like Peyton and Eli Manning, Rex and Rob Ryan, and many others.
They are only related by their shared involvement with the NFL.
Booger has already left the NFL, but McFarland Junior, a great running back, is still competing.
Booger McFarland quit playing for the NFL, why?
Booger was unable to return to the pitch as a footballer after suffering a major knee injury during one of his training sessions.
What was said about Dwayne Haskins by Booger McFarland?
Haskins and other players of color, according to McFarland, enter the NFL. They now place a greater emphasis on their brand than on football after joining the NFL.
McFarlan received a lot of backlash for this assertion.
Exists a hall of fame for Booger Mcfarland?
Booger is, in fact, honored.
How did Booger McFarland fare?
In a satirical tweet, Davante Adams quoted McFarland as saying that in the league, games are lost more often than they are won.
Facts of Anthony Darelle McFarland

Full Name:
Anthony Darelle McFarland
Birth Date:
December 18, 1977
Age:
45 years
Gender:
Male
Profession:
A former defensive tackle in NFL Football Analyst at ESPN
Country:
USA
Horoscope:
Sagittarius
Height:
6 feet 0 inches (1.83m)
Wife
Tammie McFarland
Married
Yes
Net Worth
Estimated $9 Million
Salary
$2 Million per year as a football analyst
Eye Color
Dark Brown
Hair Color
Black
Birth Place
Winnsboro, Louisiana
Status
Married
Nationality
American
Ethnicity
Black
Religion
Christian
Education
Louisiana State University (Degree in Business Management)
Father
N/A
Mother
Nancey
Kids
Two (a daughter and a son)
Twitter
Anthony Darelle McFarland Twitter
Instagram
Anthony Darelle McFarland Instagram
View more / View less Facts of Anthony Darelle McFarland